Aberystwyth prom camper van ban driven by 'selfish few'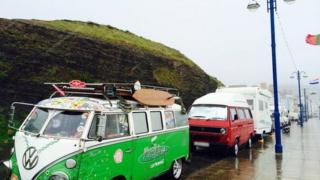 Plans to ban camper vans from staying on Aberystwyth's promenade overnight are back on the table.
Ceredigion's council cabinet has backed a fresh move to stop people parking and sleeping on the sea front after complaints that some stayed for weeks.
A bid to restrict camper vans earlier in the year by imposing a four-hour parking limit was thrown out after criticism from residents in the town.
Camping vehicles would be forced to leave the prom at night from April.
One local councillor said the cabinet's decision would mean the promenade is handed back to the public, after the area's image had been tarnished by a "selfish few".
North ward councillor Aled Davies said: "We don't mind people on the promenade for a short period but it was being turned into a campsite."
Under the proposals, vehicles that could be used for sleeping in or cooking would have to leave between 23:00 and 08:00.
"People were parking up for weeks on end. They just took up space and stayed for longer and longer times," added Mr Davies.
"We don't want to discourage people from coming along and stopping at the promenade, we just want to discourage camper van owners from staying for days a time.
"I often go on the promenade and I would see the same faces week after week."