Ceredigion slaughterhouse men deny meat charges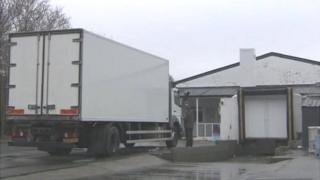 A mid Wales meat plant boss and an employee have denied mislabelling goat meat after an investigation sparked by last year's horsemeat scandal.
Dafydd Raw-Rees, the owner of Farmbox Meats in Llandre, near Aberystwyth, appeared with employee Colin Patterson at Southwark Crown Court, London.
They both denied 19 counts of selling goat falsely labelled as lamb shanks, lamb trim and mutton.
The men were released on bail until a trial at a later date.
The two men were arrested following raids at Farmbox Meats at the height of the horsemeat scandal in 2013, although no charges have been brought against them in relation to that investigation.
The company is since understood to have gone into administration.
Wednesday's hearing in London also saw two other men appear as part of the horsemeat inquiry.
West Yorkshire cases
Peter Boddy, 65, admitted failing to comply with food traceability regulations which state the source of meat should be traceable from field to fork.
Boddy, who runs a West Yorkshire slaughterhouse, admitted selling 50 horses for meat but failing to keep proper records to show who bought them.
There is no suggestion that buyers did not know they were purchasing horse meat.
Prosecutors said they did not know where the meat might have ended up.
David Moss, the slaughterhouse manager at the Todmorden site, denied forging an invoice concerning the number of horses sold in a transaction.
Both men are also charged with failing to comply with food traceability requirements for more than 17 horse carcasses between July 2012 and February 2013.
But they did not enter pleas and intend to apply for the charge to be dismissed.
The pair were also bailed and are due to stand trial next year, at a date to be confirmed, at Southwark Crown Court.