Bricklayers shortage prompts Ceredigion courses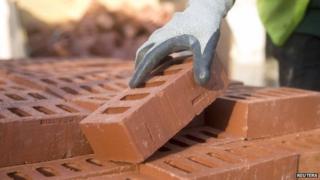 There is a shortage of skilled bricklayers in parts of mid and west Wales, according to a college hoping to recruit newcomers to the trade.
The move follows concerns raised across Britain by the Construction Industry Training Board (CITB).
It says those with the right skills can get top wages for their work.
Coleg Ceredigion is hosting a two-day taster session in a bid to persuade potential builders that it is a worthwhile profession.
Paul Marsh, CITB's south west Wales delivery manager, said: "There is no doubt a need for bricklayers in the Ceredigion area."
Career choice
Richard Sutton, from west Wales construction firm Sutton Brothers, added: "There is a definite shortage of skilled bricklayers in west Wales, there is also a shortage of willing individuals who want to pursue bricklaying as a career."
Huw Thomas at Coleg Ceredigion said the free two-day session was an "excellent opportunity for anyone who has an interest in learning basic construction skills".
"With a shortfall in skilled bricklayers on a national level, there has really never been a better time to consider learning these valuable skills," he said.