Ceredigion 'Coastguard Champions' celebrated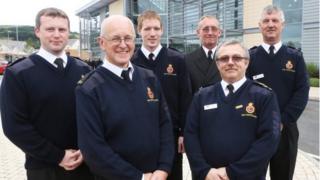 Aberystwyth and Borth coastguards have been praised for their work during the Ceredigion floods earlier this year.
The UK's chief coastguard Richard Martin has paid tribute to them as part of a campaign to celebrate "Coastguard Champions".
"If you ask them about their work, they will probably say it was just routine, which says more about them than mere words can convey."
The rescue teams were called out 11 times between January and February.
Hurricane force
Heavy rain, high tides and strong winds meant Aberystwyth and Borth coastguards had to put themselves at risk to help people.
They delivered meals and supplies to the elderly and vulnerable and evacuated people from their flooded homes.
Special praise was given to the Cambrian sector manager George Crumpler, who was on the scene as hurricane force winds hit Aberystwyth.
Huge difference
The campaign describes how he ran between waves on the seafront to save someone taking cover in a shelter.
Tribute was also paid to Welsh coastguard volunteers for taking time out of their full-time jobs to help.
"Whether in coordination centres or on the coast, individuals and teams actions make a huge difference to peoples' lives," Mr Martin said.