'Small scale amphitheatre' could come to Newtown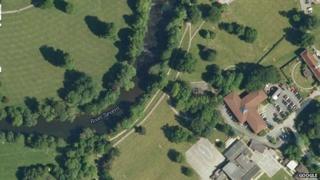 Newtown council are considering plans to build a new "earth performance space".
The area would be built in Town Hall Park in Powys with £15,000 set aside by the town council for a public art project.
Councillor Richard Edwards says the "small scale amphitheatre" could be used for performances and as a children's play area.
He added: "It's really exciting...it could add a lot to the town centre."
Attract students
It is hoped the amphitheatre will be built on a grassed area between a playground, a miniature railway track and the River Severn.
Mr Edwards says he wants the informal space to bring people together and attract students from local performing arts schools, but stressed that planning permission is still needed.
He is meeting with a local architect to draw up a building plan and hopes construction is given the go ahead by 2016.