Road reopens after 90 tonne crane pulls lorry out of canal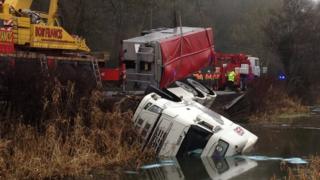 An overturned lorry which was stuck in a mid Wales canal for two days has been pulled out, allowing the adjacent road to be reopened.
The lorry tipped over on Monday on the A483 between Newtown and Welshpool in Abermule, Powys, partially blocking it.
The road was closed from 09:30 GMT on Wednesday as a 90 tonne crane began to pull the vehicle from the water.
The cab and trailer have now been removed and the road has been reopened.
Environment body Natural Resources Wales is continuing to work at the site, removing fuel from the side of the canal and monitoring any impact on the water and environment.