Librarians 'should have had warning'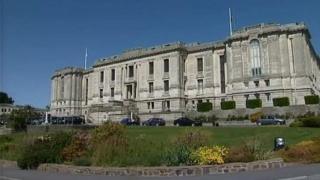 The National Library of Wales unfairly dismissed two members of staff when they should only have received a warning, an employment tribunal found.
The full judgment in the case of Arwel Jones and Elwyn Williams has just been released following a verdict last year.
The two men brought the tribunal when they were demoted two grades at work after facing a disciplinary process.
They had admitted making mistakes in a tendering process but had said they had not been trained in the area.
Judge John Thomas said in his judgement: "I do not find that the punishment imposed was proportionate."
He took into account the inexperience of both claimants and the limited evidence of "actual as opposed to potential detriment to the respondent".
He added: "There was no suggestion of dishonesty or 'wilful' misconduct."
The judge said the library's chief executive Dr Aled Gruffydd Jones had made a misjudgement in the way he had handled the disciplinary process.