Deer called Bambi 'savaged by pack of dogs' at wildlife park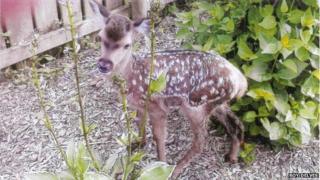 A hand-reared deer called Bambi has been killed in an attack thought to have been carried out by a pack of dogs at a Powys wildlife park.
The 18-month-old was savaged between 17:30 GMT on Saturday and 04:00 GMT on Sunday at Harry Tuffin's Country Park in Churchstoke.
Owner Roy Delves said he suspected lurcher-type dogs had carried out the attack but may have had human help.
Police are looking at CCTV from the surrounding area.
"Bambi had a broken leg, and had been bitten on her neck and they'd eaten part of her leg," he said.
"Everyone is feeling a bit sick.
"The police have been very good. They've picked up pictures of what happened. They are looking at CCTV from the supermarket, the water works and two police cameras."
Bambi had been bottle-fed by two members of staff, Mr Delves explained.
"She would jump into the boot of their car, and go home with them and then in the morning she would jump back out again," he said.
"We accept the fact that animals die but this is different - she trusted humans and she trusted dogs, and I think they let her down."
He and his wife Ruth are considering putting up a reward to catch the perpetrators.