150 fish dead after oil spill in Powys river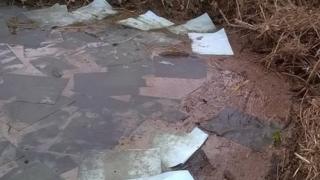 A clean-up operation is under way after 150 fish were killed when 3,500 litres of oil leaked into a river in Powys.
Natural Resources Wales (NRW) said more than 100 dead fish had been spotted in Crickhowell where an 850m stretch has been affected.
The spill had worked its way from Cwm Beth tributary to the River Usk and an oily sheen was left on the surface.
Local AM and Welsh Lib Dem leader Kirsty Williams said it was terrible news.
"This wonderful river and its wildlife are incredibly important to our town," she said.
"Of course, the clean up of the area must be our number one priority. Following that, we must also determine how badly our wildlife has been affected. It is sad to hear that dead fish have already been found."
NRW's Rhys Hughes said: "The oil that has already escaped into the ground may continue to seep into the stream via the culvert.
"We will be using more absorbent pads and booms over the weekend to try and contain and clean up as much of the oil as we can.
"It has already had a significant impact on the stream with around 150 fish already dead, including trout, bullhead and eels, but is so far not affecting the River Usk."