Dementia care home dog Ellie May shortlisted for Crufts award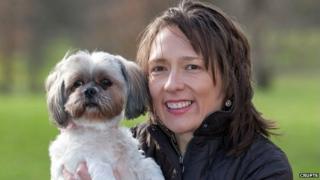 A dog credited with transforming the lives of residents of the dementia care home where she lives was shortlisted for an award at Crufts.
Nine-year-old Ellie May has lived at Oaklands care home in Crickhowell, Powys, since she was a puppy.
Owner Julie Cashell, who manages the home, said she provided comfort for residents who often get confused.
She was one of four dogs up for the Eukanuba Friends for Life competition.
Ms Cashell said of Ellie May: "Many of the people in the home find the world a confusing and bewildering place and what she gives to them is priceless.
"She gives incredible reassurance and calm and they transform in her company. When communication has become difficult she radiates love and warmness that needs no words."
The winner of the competition at Crufts was Miracle, a rescue dog credited with changing the life of a six-year-old boy with cerebral palsy.