Mystery poems sent to Glengower Hotel bar, Aberystwyth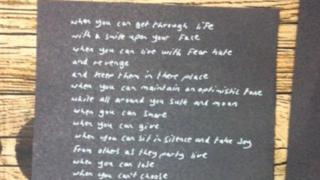 Bar staff at a Ceredigion hotel are the latest recipients of the work of a mystery poet.
Since February, the Glengower Hotel on the seafront in Aberystwyth have received three unprompted poems signed "The composer Mark Jones".
The poems, written in silver pen on black card, have a Lancashire post mark but there is no explanation for them.
The subject of the poems vary, each finish with the line "keep your chin up and keep smiling".
Jo Glover, the bar's assistant manager said: "I'm just intrigued and want to know more about the poet and why he decided to send them to us. But I quite like them and we're hoping to receive more."
It follows workers at a hairdressing salon near Caernarfon receiving similar poems. Elaine's in Penygroes was sent five between the end of last year and the start of this year.
It echoes an almost identical case in Lancashire in 2011 when a hair salon in Leyland received seven poems over three years.