Public inquiry to be held for proposed Newtown Bypass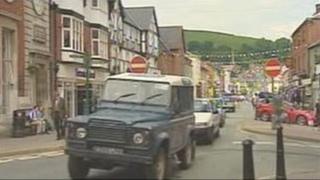 A proposed bypass in Mid Wales will be subject to a public inquiry, the Welsh Government has announced.
A three-week public inquiry for Newtown Bypass will be held at the end of June following objections.
The proposed 3.4mile (5.6km) bypass is expected to ease traffic problems in the town.
But concerns have been raised over the route and the inquiry will consider alternative routes put forward.
The current proposal would see the bypass run south of the Mochdre Industrial Estate but objectors are calling for it to pass directly through the site.
Local AM Russell George said alterations could be made, but added: "But I don't believe that a route change through the Mochdre Industrial Estate is the answer."
The Mid Wales Chamber of Commerce and Mid Wales Manufacturing Group have also urged the government not to change the route.