Rural terrorism link an 'eye-opener', say Ceredigion councillors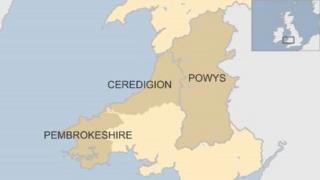 Revelations that terrorists have been using rural Wales for preparations were "an eye-opener" but councillors in the area say they were not shocked.
An officer with the Wales Extremism and Counter Terrorism Unit (Wectu) told councillors that mid and west Wales had been used for bonding training.
Det Con Gareth Jones told councillors the terrorists go for "radicalisation or bonding training" in rural areas.
They include Ceredigion, Pembrokeshire, Carmarthenshire and Powys.
Cardigan Mwldan councillor John Adams-Lewis said: "It was an eye-opener, but I'm not shocked such things are taking place in rural areas.
"People will have to keep their eyes and ears peeled for suspicious incidents and report these to the police. But there's not a lot we can do."
Aberaeron councillor Elizabeth Evans said: "We have got to be more vigilant, there's no doubt about that."