Concerns over Aberystwyth promenade parking charge plan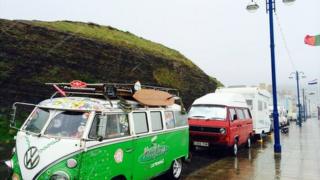 Concerns have been raised over proposals to implement parking charges along Aberystwyth's promenade.
Parking problems in the town are already "driving people away", according to chamber of commerce chairman Chris Mackenzie-Grieve.
A Ceredigion council spokesman said officers have been asked to look into parking charges for the promenade.
Mr Mackenzie-Grieve said charges should be part of a "coordinated approach" to parking provision across the town.
He pointed to problems following the loss of more than 300+ parking spaces when Mill Street car park closed to make way for a new shopping development.
The council spokesman said the investigation into the parking charges are "at a very early stage".