Crickhowell convenience store protest shops boarded up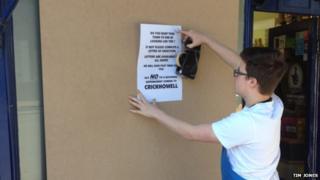 Shopkeepers in a town opposed to plans for a convenience store have boarded up their windows to show what the high street may look like if it goes ahead.
A protest and meeting have previously been held in Crickhowell, Powys, against a proposal to turn The Corn Exchange pub into a convenience store.
On Saturday afternoon, shop owners covered their windows with cardboard.
Baker Steve Askew said they wanted to show what their high street could look like if shops closed.
He added: "We believe up to eight family-run independent shops could be affected if a supermarket chain came to town."
The town has only one national chain - Boots chemist - while all other businesses are family run and independent.
Punch Taverns wants to turn the Corn Exchange pub into a convenience store.
The final decision on the application will be taken by Brecon Beacons National Park Authority.