Solar-powered vaccine fridges help Ebola fight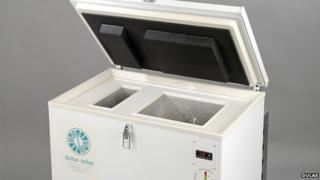 Solar-powered fridges which store vaccines are being flown to Africa to help in the fight against Ebola.
Shipments from Dulas, based in Machynlleth, Powys, are going to Sierra Leone, Liberia and Guinea.
The fridges are used in countries where electricity supply is limited.
Guy Watson, of Dulas, said: "We are pleased that technology designed and developed in Wales is being used to support communities during a global crisis."