Old Aberystwyth street signs to be sold at auction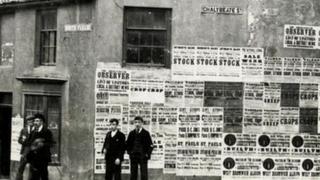 A seaside town which replaced about 260 of its street signs with Edwardian-style versions will put the original signs up for sale, likely at public auction.
Ceredigion council's cabinet voted to sell the Aberystwyth signs, some dating back to the early 20th Century.
A spokesman said the timescale of the sale and value of the signs had not yet been confirmed.
It is part of an £800,000 scheme to improve the look of Aberystwyth.
A council spokesman said: "It is likely that sale will be by way of a public auction, but the sale method is also yet to be confirmed."