'Engine stopped' before plane crashed in Brecon Beacons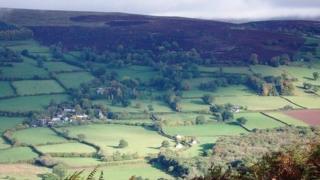 A light aircraft's engine stopped before it crashed in Powys, leaving its 81-year-old pilot with serious injuries, an official report has said.
The plane crashed into a field at Tower Farm, Cathedine, in the Brecon Beacons, on 17 July last year.
The pilot, who had 911 hours flying experience, was taken to Swansea's Morriston Hospital.
A report by the Air Accident Investigation Branch said the engine stopped "without any warning".
It said the 1969 built Glos-Airtourer, owned by Brian Strawford, of Llynfi House in Llangorse, had taken off from Shobdon airfield in "good flying conditions".
It said following some sightseeing, the pilot commenced a full-throttle climb towards 2,000 ft when the engine stopped and "restart checks had no effect".
Stalled
"The low height, and the aircraft's relatively poor glide performance, meant that the options available for a forced landing were limited to sloping fields of small acreage," the report said.
"The pilot attempted to execute a forced landing into the most suitable one but the aircraft stalled from a low height, with the flaps up, into the field before the one he had chosen."
The aircraft was wrecked in the crash and the pilot suffered serious injuries, the report said.
Checks carried out on the wrecked aircraft have failed to reveal any cause for the engine failure, it added.