Angela Kendrick died after wasp sting in Brecon Beacons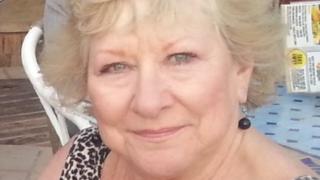 A woman died after a rare illness made her sensitive to wasp stings, an inquest has heard.
Mother-of-two Angela Jacqueline Kendrick, 69, collapsed after being stung on holiday in the Brecon Beacons, Powys, in September last year.
Gwent Coroner's Court heard she had mast cell disorder but her family said she was not made "fully aware" of the risks and treated the sting with onion.
Coroner Wendy James said Ms Kendrick should have had more information.
She recorded a narrative conclusion and said anaphylactic shock and the wasp sting caused her death.
'Lack of education'
The inquest was told Ms Kendrick tried to use an onion to treat the sting before a family member injected adrenaline from an EpiPen as the family called an ambulance.
She was taken to Nevill Hall Hospital in Abergavenny, Monmouthshire, because paramedics had run out of adrenaline medication, where she was later pronounced dead.
Her daughter Allison Kendrick, 46, told the inquest the old wives' tale treatment of an onion showed her mother's "lack of education" about her condition after being diagnosed in 2003.
She said she prayed no other family would be put through the "excruciating pain" of the death of a loved one because of a simple sting.
Ms James said the purpose of an inquest was not to apportion blame but Ms Kendrick, from Hatfield in Hertfordshire, should have been given more information by doctors and put in touch with a support group.
"Through her ignorance she placed her life in danger, which I am sure she would not have done had she been appraised of the risks of this condition," she said.
Allison Kendrick said: "The only way I can cope with the loss of my beautiful mum is the hope that her story can, in some way, lead to changes being made within the care of patients with severe allergies so that further deaths can be avoided."