New Quay residents say shellfish waste causes injuries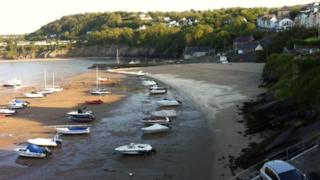 People living in a Ceredigion seaside village have said shellfish waste on the beach causes injuries.
The factory Quay Fresh and Frozen Foods is hoping to renew its marine licence to deposit clean, crushed whelk shells off New Quay.
A public meeting on Thursday invited residents to have their say, which Natural Resources Wales said was a "vital part" of the application.
The company said it would not comment while the application was under review.
Valerie Bowen, an 88-year-old retired doctor, said: "I used to play on the beach when I was a child. I wouldn't even walk on it now barefoot in case the washed-up shells cut my feet.
"I won't even allow my own grandchildren to play on the beach after they complained their feet were hurting. It's such a beautiful beach, it's very frustrating."