Hay Castle in Powys saved by £4.5m lottery grant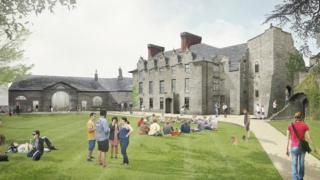 The future of Hay Castle in Powys has been secured following a £4.46m lottery grant.
The medieval castle ruins and its Grade I listed mansion in Hay-on-Wye will be restored and the ancient gate reopened.
When the project is complete, it will be the first time the castle has opened to the public in its 800-year history.
The Hay Castle Trust has also raised £1m towards the project. It is hoped work will begin in 2017 if a further £900,000 can be raised.