Model boat which washed up in Borth returned to US school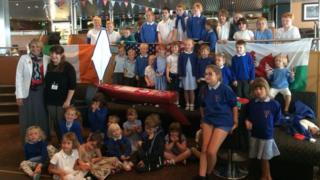 A model boat which washed up on a Ceredigion beach has been reunited with the American teacher who helped launch it.
The Carolina Dreamer was found in Borth in February, having been launched by a school in Charleston, South Carolina.
Pupils from Ysgol Craig yr Wylfa made contact with the American youngsters who sent over a kit to rebuild it.
They travelled to Fishguard, Pembrokeshire, on Monday to hand the boat back.
St Andrew's School of Math and Science in Charleston made the boat as part of a school project.
It was fitted with a GPS tracker and launched in May 2015. It washed up on Bermuda less than a week later and was put back into the ocean.
Tracking showed it was initially heading towards Ireland, but made a detour to the west Wales coast, where it was discovered by Helen Hincks, of Talybont, and her son William.
As well as replacing the boat's top deck, which had got lost en route, pupils from the Borth primary school also added their own touches.
"It's got a memory box in it now with things we wanted people to find - like a Welsh flag with all our names signed on it and a message saying 'good luck'" said nine-year-old Phoebe.
Fourth grade teacher Amy McMahon, who plans to take the boat back to Ireland and then on to the Azores to be re-launched, said the whole experience had been magical.
"It's like a message in a bottle," she said.
"We were following her updates in our classroom and when the GPS signals stopped we thought we'd never see her again.
"The fact the people of Borth found her and brought her back to us, it's just so overwhelming, and now we're all a part of her life and her journey."