Aberystwyth park and ride 'should stay open for 12 months'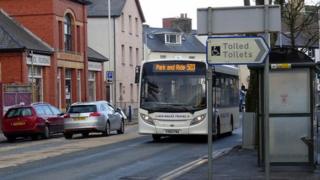 A town's park and ride should remain open for a further 12 months if the current operators choose to end the service, councillors have been told.
Ceredigion council is not renewing its contract for the Aberystwyth service, blaming major work taking place at Bronglais Hospital.
If operator Mid Wales Travel opts not to run it commercially, it will end.
The council's cabinet has been advised to keep it going, especially as changes are being made to parking in the town.
Cabinet will discuss the matter this week ahead of the contract running out at the end of August.