Sir Kyffin exhibition plans at National Library of Wales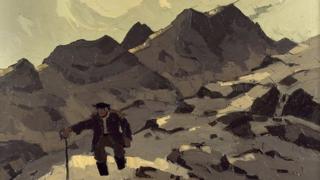 Plans for an exhibition marking Welsh artist Sir Kyffin Williams' centenary are being finalised by the National Library of Wales.
Numerous pieces of his work were purchased by the library in Aberystwyth, Ceredigion.
When he died in 2006, he left the library part of his estate, including 200 oil paintings and 300 prints.
The exhibition will open in February ahead of the centenary of his birth on 9 May 1918.
One of Sir Kyffin's paintings was first bought by the library in 1949 and it continued to purchase his work throughout his career.
The library describes its collection of Sir Kyffin's work, which also includes correspondence, diaries and photographs, as "the largest, most comprehensive in existence".
Sir Kyffin was renowned for his stark oil paintings of the north Wales landscape, as well as his portraits and drawings.
In an entry in his diary, written in 1993, the artist wrote: "It is ironic that I am the most loved and most honoured Welsh artist of all time and yet I am hated by the art world."
A spokesman for the National Library of Wales said it was "delighted to reveal plans to hold an extensive exhibition... to commemorate the 100th anniversary of the birth of one of the defining Welsh artists of the 20th Century."