Daniel Morgan: Mother of murdered investigator dies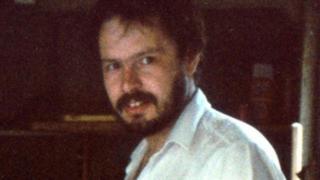 A woman who campaigned for 30 years for justice after her private investigator son was found dead with an axe in his head in a London car park has died.
No one has ever been convicted of killing Daniel Morgan after his body was discovered in March 1987.
It is believed he had been about to expose police corruption.
His mother Isobel Hulsmann, 89, from Hay-on-Wye, Powys, had been diagnosed with cancer. Her son Alistair said she "never stopped fighting" for justice.
Alistair Morgan tweeted the news of her death on Friday, saying: "My dear mother and fellow justice campaigner Isobel Hulsmann passed away peacefully yesterday. RIP Mum xxxx"
He told Wales Online Mrs Hulsmann had been diagnosed with cancer six months ago, adding: "She had a long life, but it's caused us all great stress and distress throughout, but my mother never stopped fighting.
"Until fairly recently she was attending all the meetings, but in the last six months she was too ill."
Daniel Morgan, from Llanfrechfa near Cwmbran, was 37 when he was found dead at the Golden Lion pub in Sydenham, London.
There have been five police investigations into his death, and the Metropolitan Police has admitted police corruption was a "debilitating factor" affecting the first one.
Five people were arrested in 2008 but two, including a former detective accused of perverting justice, were discharged after a string of supergrasses were discredited.
In 2013, the then Home Secretary Theresa May set up a independent panel to review the circumstances of his death.
A spokesman for the Metropolitan Police said the force continued to provide as full as possible support to the panel.
Earlier this year, Alistair Morgan urged Mrs May as prime minister to continue with the second part of the Leveson inquiry into press ethics.