Lynx death: Wild cat ban at Borth Wild Animal Kingdom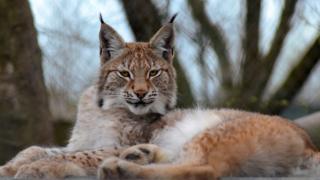 A zoo which had two of its lynx die within days of each other has been banned from keeping certain dangerous animals including wild cats.
Borth Wild Animal Kingdom in Ceredigion has been closed since Lilleth, the Eurasian lynx, escaped in October.
Lilleth was "humanely destroyed" and a second lynx died following a staff "handling error".
The zoo owners said they planned to appeal against parts of the proposed ban on keeping "category one" animals.
Tracey Tweedy said several of the zoo's animals could be rated as category one, including the lynx.
Category one also covers animals such as lions, leopards, big monkeys, snakes and caymans.
Mrs Tweedy said they would be launching an official appeal within 28 days, as some of those animals the zoo considers are perfectly safe and of an age where it would be harmful to relocate them. She would not say exactly which animals at this stage.
Ceredigion council commissioned a report on the zoo by a veterinary expert, which resulted in a series of licence conditions and directions for the owners Dean and Tracey Tweedy, including a timeframe for compliance.
'Hazard and risk of injury'
The couple said on Monday inspectors gave them a "long list of things that need improving".
The council said in a statement they had served the notice to the Tweedys on 23 November.
"The proposed licence conditions will restrict Borth Wild Animal Kingdom from keeping category one dangerous animals.
"Borth Wild Animal Kingdom operators have 28 days to consider the proposals and can either accept them in their entirety or lodge an appeal with the magistrates court against those they disagree with," a spokesman said.
He added the council would be monitoring the zoo once it reopened to ensure licence requirements were met in the given timeframe.
The Department for Environment, Food and Rural Affairs defines a category one animal as one, which, if it comes into contact with the public, "is likely to cause serious injury or be a serious threat to life, on the basis of hazard and risk of injury, toxin or disease, irrespective of the age and vulnerability of the visitor".