Llandysul: The 'ghost town' with no banks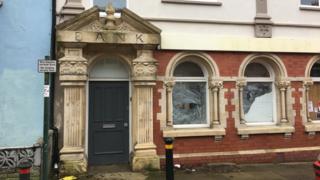 With nearly 260 banks in the UK set to be closed by the Royal Bank of Scotland due to a rise in online banking, BBC Wales visited Llandysul in Ceredigion to see how closures there have affected the community.
Until recently, Rose Ainsworth had four banks and a post office within a five-minute stroll of her front door.
Today, they have all gone.
Unable to drive, 83-year-old Mrs Ainsworth, who has osteoporosis, now has a 30 mile (48km) round trip via multiple buses to access her nearest banking services.
The other alternative is to grab her walking sticks and attempt the long walk to the relocated post office - a 4 sq m (43 sq ft) plastic kiosk next to the check-out tills at an edge-of-town supermarket.
On a bad day, the walk alone can take her an hour each way.
In common with an increasing number of once-prosperous towns across Wales, Llandysul, Ceredigion, is no longer deemed viable for the big banks.
The last of the "big four" banks to pull out of this town, with its proud history as the heart of the Welsh woollen industry, was Barclays just three weeks ago.
An increase in online banking and a lack of use were cited as reasons for the closures - for instance HSBC said the town's service was "no longer viable".
But not everyone can access online services.
"I don't even own a computer," Mrs Ainsworth, widowed nine years ago, said.
"I have to walk to the post office every Wednesday to collect my pension and it's exhausting and leaves me in a lot of pain.
"I hate the set-up there because there is no privacy. It makes me feel vulnerable.
"If I need to go to the bank, it can take me all day now, whereas once I had four of them, and a post office, on my doorstep."
Her views are shared by Danny Jones, a retired carpenter, who said the bank closures have left Llandysul like "a ghost town".
He said: "The town became more depressed every time a bank called it a day.
"My nearest bank now is 10 miles away in Newcastle Emlyn. If that closes I'll be stuffed.
"Seeing the town so dead breaks my heart. It used to be such a lively, thriving place.
"Sure, you can't say it's all the banks' fault but they have accelerated our demise. They were happy to be here in the good times. They should stay and help us get back on our feet."
Announcing 20 bank closures in Wales on Friday - part of 259 closures across the UK - RBS said the way people use its services had changed, with customers choosing to bank online or on mobiles instead.
All but one branch in Wales have less than 100 regular customers each week, it added.
But Caroline Kujawa believes banks have a responsibility to serve their communities as well as make money.
She moved to Llandysul in August after losing her job as a NatWest cashier in Poole, Dorset, when her branch closed.
She said: "When they close, they leave a massive hole in that community and you can see it here in Llandysul. It's very sad.
"In my bank, we used to make sure our customers, especially the older ones, were safe. We had an elderly woman who wanted to withdraw £3,000 when usually she'd take out £50. It turned out she was being ripped off by a builder who demanded she took the cash out for him.
"Luckily, we were able to put a stop to it and contact the police. But how can there be that kind of pastoral care on the internet or in a town miles from your home where the bank doesn't know you?"
Businesswoman Clare Price blames a "general malaise" created by the bank closures for her trading woes.
"No one has any reason to come in to Llandysul now the banks are no longer here. Instead they head for bigger towns like Carmarthen to spend their money
"It feels like we've been left to rot."