Work under way to save rare butterfly site in Powys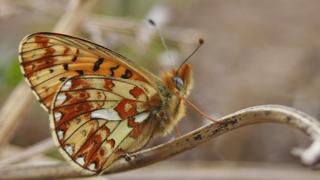 Work to save a rare butterfly habitat in Powys is now under way, following a successful appeal for donations.
The pearl-bordered fritillary is one of the UK's most threatened species, occurring in just 5% of its former colonies.
It is now restricted to just 11 sites across Wales, eight of which are in Powys.
Montgomeryshire Wildlife Trust has raised more than £16,000 to carry out habitat management work.
Conservation officer Tammy Stretton said the butterfly was once widespread in woodland across the UK but has declined rapidly, largely due to a loss of habitat.
"It mainly lives on south-facing bracken-covered hillsides in Wales, but these are vulnerable both to overgrazing by sheep and the abandonment of grazing," she said.
"The management of these sites is vital to safeguard the future of the species."
The Welshpool-based trust aims to carry out the work before the end of February.