Plan to cut Ceredigion Council waste service to save £40,000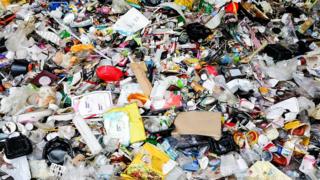 A waste transfer station and a rubbish tip could be closed in a bid to save Ceredigion council £40,000 a year.
The cabinet will vote on Tuesday whether to renew the contract for the privately owned site in Beulah, which expires in June.
Kerbside rubbish is currently taken to Beulah and a site in Lampeter where it is transferred to reprocessing sites.
A household tip at Rhydeinon is also out of contract, but is likely to remain open for another six months.
The council says the end contract of the Beulah transfer station, in Newcastle Emlyn, will not have any impact on residents as it is not a council-run facility.
The household waste tip at Rhydeinion is one of four in the county and is owned by the council.
It is recommended it stays open for another six months while its future is considered.