Erbistock villagers quoted £550,000 for broadband link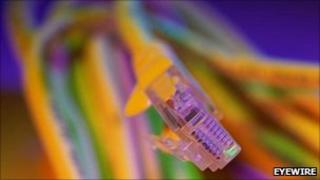 Villagers have been told it would cost them £550,000 to be provided with a broadband internet connection.
British Telecom's estimate included installing the infrastructure necessary to provide the broadband link for 80 households in Erbistock, near Wrexham.
But the residents have since been given a £50,000 estimate by another firm, Rutland Telecom, and they hope to be online by October.
BT said it was actively investigating alternative solutions for the village.
Alison Fletcher, 50, who was behind the community's five-year campaign to get online, said: "We can't get broadband in Erbistock because we're too far away from the BT exchange.
"When BT came back saying it was going to cost more than half a million [pounds] for them to help us, and that we would have to fund this cost, we started looking at other options."
The villagers found out that a firm called Rutland Telecom had helped another area in the same situation.
"They said they could get us online for £50,000 which we were prepared to pay," said Ms Fletcher.
"But then we found out that we could get a Welsh Assembly Government grant to help towards the cost."
The assembly government's broadband support scheme provides up to £1,000 per household or business premises to help with the set-up and installation costs of a broadband connection.
To qualify for the scheme householders or businesses must register as a "notspot". That is an area with no broadband connection, usually as the result of the distance from the local telephone exchange: the further away they are, the weaker the broadband signal becomes.
"I'm in the process of getting enough households on board so that if we all get the grant it will almost cover the £50,000 cost.
'Community action'
"We're hoping to be online by the end of October."
David Lewis, managing director of Rutland Telecom, said the company had managed to supply broadband to the village by upgrading the copper wire line from the telephone exchange to Erbistock with fibre optic cable.
"We've been able to do this work for £50,000," said Mr Lewis.
"I'm not sure why BT said it would cost so much more, but essentially this is a case of community action and a small company working together.
"This is now the first Welsh notspot area to receive broadband using this method. We hope to go live in October."
For £50,000, the villagers will receive super-fast broadband of up to 40 megabits per second (Mbps).
Speeds of 8-10 Mbps are considered standard for everyday use.
A BT spokesman said it had been working closely with the assembly government to identify and resolve notspots in Wales and Erbistock was one community of which it was fully aware.
The spokesman said that Erbistock was currently fed by the Bangor-on-Dee exchange.
He added: "Because of line length from that exchange the costs involved have to date rendered a solution uneconomically viable under the Regional Innovative Broadband Support programme with the assembly government."
The spokesman explained that any solution it found to the village's problem would have to be made available to all communications providers on an open wholesale basis.
"We are currently actively investigating alternative solutions to provide broadband connectivity to Erbistock residents," he added.