Mother 'disgusted' at 40-month term for son's killer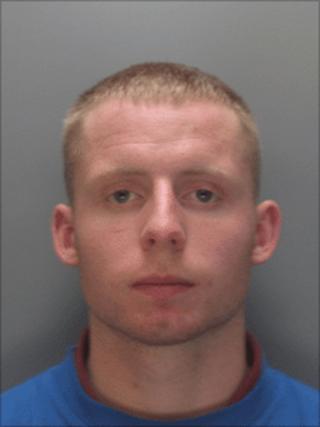 A Flintshire mother has called for tougher sentences for so-called "one-punch killers" after her son's attacker was jailed for 40 months for manslaughter.
Gafyn Denman, 22, from Mold, previously admitted killing Peter Jones, 24, with a single punch on 9 May in Buckley.
Co-defendant Ross Taylor received eight months for assaulting Mr Jones' father, also called Peter, on the same day.
Mr Jones' family said they were "disgusted" by the sentence length.
Caernarfon Crown Court heard Peter Jones was walking home with his father after a night out when Denman launched his unprovoked attack.
After sentencing his mother, Christine Jones, said: "On that day in May our lives were changed forever.
"We are serving a life sentence, while his killer will be out in a few months.
"Can that be justice? We are very disgusted by the sentence. Not long enough."
She added: "My son didn't do anything wrong, he was walking home with his father.
"He didn't ask to be killed."
The court was told Denman "had been spoiling for a fight" all night after spending the evening drinking in Buckley on 8 May.
He was known to become aggressive after drinking, and earlier that night had slapped a woman who was with his group of friends.
At about 0100 BST he saw the Joneses and another man walking.
He crossed the road hurling abuse at his victim and landed a single punch to the head.
Mr Jones fell to the ground and never regained consciousness, dying later the same day.
Denman boasted to his friends that he had floored Mr Jones in a single blow, but later fled the scene and hid in bushes when emergency services arrived.
The court heard Taylor, and possibly another person, jumped on Mr Jones' father, repeatedly punching him.
Taylor admitted assaulting Mr Jones senior and causing actual bodily harm.
Sentencing Denman, judge Merfyn Hughes QC said: "You went out of your way to attack him.
"There is now way at all there could have been any risk to you.
"It was one punch, it was forceful, the punch was deliberately aimed at his head.
"He had done nothing to you - he was entirely innocent."
Judge Hughes said he had to balance a lost "precious" life against legal guidance.
In light of a guilty plea, the sentence he could impose was one of three years four months, he said.
Outside court, Mr Jones' family said they had written to Prime Minister David Cameron.
They said he had told them that his government was considering a review of sentencing policies, and would be bringing forward its proposals later this autumn.