Foxes dumped in supermarket car park were shot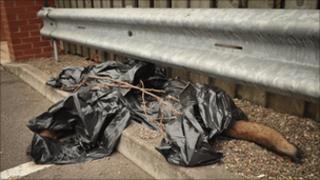 A vet says three foxes, found dumped at a Wrexham supermarket car park, had been shot by a powerful weapon.
Dennis Callanan was speaking after carrying out the post mortem on the the bodies of two adult and one younger fox found near the Asda store on Monday.
He told the Leader newspaper he had never seen so much "unbelievable" damage caused in such a way.
Mr Callanan, of Borras Park Vets, said: "The x-rays showed they had all been shot by soft-nosed bullets.
"These bullets are primarily used for killing large animals like deer. There was unbelievable damage."
It's not known if the foxes were killed on on-site or dumped there.
The RSPCA is appealing for witnesses to call 0300 1234 999