Denbigh skate park vandals told to leave or face jail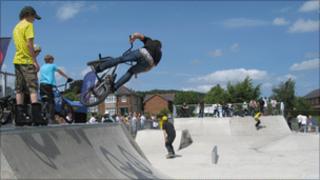 Extra powers have been granted to police to try stamp out anti-social behaviour in a park which includes a skate park.
The six-month dispersal order gives North Wales Police the right to order groups of two or more to leave the Lower Park area in Denbigh.
It has been targeted by vandals and local residents have been intimidated.
Failure to comply could lead to up to three months in prison and/or a fine of up to £2,500.
Supported by Denbighshire council, the dispersal order came into effect on 15 November and will end on 14 May, 2011.
Police can tell groups of two or more to move on, or order them to leave the area.
The order also permits officers to order groups who do not live in the area to leave and not return.
Anyone under 16 must not be in the area between 2100 GMT and 0600 GMT unless "in the effective control of a parent or responsible adult aged 18 or over".
'Minority'
The boundary of the order incorporates the skate park and covers north of Ruthin Road, bounded by Denbigh Infirmary and Denbigh High School, to the fence of Middle Park.
Insp Dewi Roberts said: "The new skate park facility has been provided for the use and enjoyment of all the community and a small number of individuals should not be spoiling this.
"The vast majority of young people attending the park are of no problem whatsoever and are as concerned as we are about the behaviour of a minority."
Jamie Groves, Denbighshire's head of leisure, libraries and community development, said: "We want the local community to be able to enjoy the great facilities on offer there, facilities which a minority seem to think it is their right to spoil."
Anyone who witnesses anti-social behaviour is asked to call 101 if in Wales, 0845 6071001 (Welsh language), or 0845 6071002 (English).