Flintshire's 'lost' viewpoint discovered after 47 years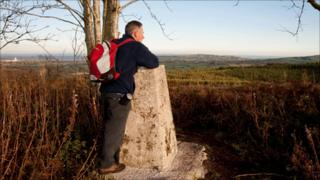 A Flintshire viewing point offering vistas from Nercwys Mountain has been rediscovered after being hidden for nearly 50 years.
Conifers planted nearby in 1964 gradually hid the point so that only people with local knowledge or a map and compass could find it.
The trees have now been felled and the point re-erected.
A 0.5km (0.3m) trail has also been set up, funded by money from Europe and the Welsh Assembly Government.
The trail is an extension of the Nercwys Circular Trail
The disused four-foot (1.2m) high trig point pillar from where the views can be seen is one of more than 6,500 triangulation pillars erected from 1935 to 1960 by the Ordnance Survey to map the country.
The restoration project was a collaboration between Forestry Commission Wales (FCW), the Clwydian Range Area of Outstanding Natural Beauty (AONB) and rural regeneration agency Cadwyn Clwyd.
Rachel Jones, of FCW and the AONB, said: "The viewpoint's elevated position above rolling countryside enables walkers to see right across to Moel Famau at 554m (1818 ft), the highest summit in the Clwydian Range with its iconic Jubilee Tower, and across the forest all the way to the Dee Estuary.
"From any one trig point it is possible to see two others and on a clear day from here you can spot the trig point on the summits of Moel Famau to the north and Moel Gyw to the west."
Family picnics
Cadwyn Clwyd spokeswoman Keira Derbyshire said the project has helped "people reconnect with an important part of their local landscape heritage".
Carolyn Thomas, chair of the Clwydian Range AONB, said: "This viewpoint was a prominent feature in the landscape for generations and the local community has been keen to see it restored for future generations.
She said the spot has already become popular
"People have even begun to revive the tradition of family picnics and started a new hi-tech custom with the hiding of a geocache at the summit."