Buckley town revival masterplan goes on show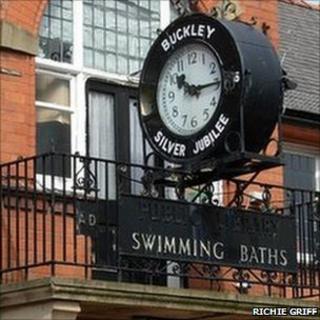 Plans to revive the fortunes of a Flintshire town are going on public display for the first time.
The proposals centre on attracting a new supermarket to Buckley, as well as creating a "cultural and evening leisure quarter".
A joint group made up of local traders and businesses, council officials and councillors have drawn up the plans.
They commissioned consultants to identify town centre needs along with residents' ideas.
Local business owner Chris Dawson, chair of Buckley Town Partnership said: "This is an exciting time for Buckley and an important opportunity for people to come along and share their thoughts and views on proposals for the long term future of our town centre."
Community centre
The masterplan is expected to be adopted by Flintshire council later this year. It will then be used to attract new town centre investment.
Flintshire council started the idea for the master plans amid concerns changes in shopping habits were driving shoppers away from the high street.
The authority commissioned a Flintshire-wide retail study and it was that which first identified that Buckley would benefit from a new supermarket in the town centre. Suitable locations are being identified.
Meanwhile, the former historic Buckley Baths building has been identified as a possible location for a high street community centre.
The pool which opened in 1928, closed six years ago when a new sports centre opened.
The public are invited to give their views on the masterplan, drawn up by Urban Practitioners, at Buckley Library, The Precinct, Buckley, between 17-31 January.
Flintshire regeneration officer Clare Madders said consultants would lead the development of the masterplan, which would guide the future development of Buckley town centre.
The draft currently suggests three areas for the future - Mold Road cultural & leisure quarter, a strengthened High Street and a town centre expansion around Precinct Way.
"It will help to make it a place where more people will want to visit and shop in, which celebrates its history and culture and an area which the local community is proud of," said Ms Madders.