Man cleared of assault on footballer Ratcliffe's son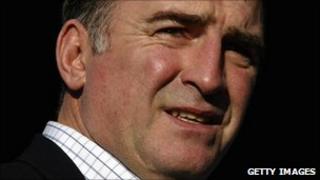 A Flintshire man has been cleared of assaulting the son of ex-Wales football captain Kevin Ratcliffe.
John Johnson, 57, denied striking Dean Ratcliffe, 24, with a piece of wood after a row between the two families erupted at a restaurant in Queensferry, Deeside.
Mr Johnson told the hearing in Flintshire he acted in self-defence.
Magistrates said evidence given by the Ratcliffes was unreliable.
The trial followed a dispute over a 20ft (6m) fence Kevin Ratcliffe had erected between his Ewloe home and that of Mr Johnson's son and One True Voice performer, Matthew Johnson.
At a hearing last week Matthew Johnson was bound over to keep the peace with his neighbour for six months, following calls he made to the former Everton star "ranting and raving" after the restaurant altercation on 8 September last year.
In court on Monday, magistrates heard how Dean Ratcliffe, his father Kevin, mother Sharon and Dean's sister and girlfriend decided to leave Da Vinci restaurant when they ran into the Johnson family.
It was alleged that as Kevin Ratcliffe was leaving the venue, he swore at John Johnson and insulted him.
Abuse
Alun Humphreys, prosecuting, said Mr Johnson heard the insult and responded in kind by shouting the same thing back to Mr Ratcliffe as the family filed past.
He said Dean Ratcliffe asked Mr Johnson to stop abusing his family, which prompted him to take hold of the footballer's son by the arms and shout at him.
"Kevin Ratcliffe then turned, saw what was taking place and pushed Mr Johnson away from his son," said Mr Humphreys.
"Mr Johnson stumbled back, colliding with a balustrade which had timber spindles.
"Some of them were loosened by him falling and he took hold of one."
The court was told Dean Ratcliffe felt a couple of forceful blows from behind and was struck to the lower back, to the right of his spine and on the lower part of his right arm.
Kevin Ratcliffe and the restaurant proprietor John Patterson then intervened.
Mr Ratcliffe senior said Mr Johnson was on the floor waving the spindle about "in a threatening manner".
He admitted insulting Mr Johnson but denied he swore and said he had simply acted to defend his son.
Mr Johnson of Mancot Farm, Cottage Lane, Mancot, Deeside, denied the assault.
He admitted he verbally responded to the insult but claimed Kevin Ratcliffe them "came at him" and pushed him over.
Mr Johnson said that he struck his head as he fell and then Kevin Ratcliffe kicked him to his lower back and punched him.
While on the ground he took hold of one of the spindles and concedes he swung it around "in order to fend off Kevin Ratcliffe", and then Dean Ratcliffe joined his father in the attack, kicking him on the ground, he said.
Contradictory evidence
Brian Cross, defending, told the court that there were so many contradictions in the Ratcliffes' evidence that magistrates could not rely on it.
He said the defendant's wife Hilary Johnson had feared for her husband's life.
Magistrates' chairman Grahame Thomas said he had listened carefully to the evidence but had not relied on that given by Kevin, Sharon or Dean Ratcliffe, because they contradicted each other in many ways.
Mr Patterson, an independent prosecution witness, seemed to support the defence version of events, he said.
After the case, Mr Johnson said through Mr Cross that justice had been done and that he was pleased with the result. He now wanted to move on with his life.
The fence which sparked the row has since been removed and replaced with a smaller fence, approved by planning officials.
Johnson had his first taste of fame in 2002 when he made it through public votes to the final of ITV's Popstars The Rivals, which also produced girl group Girls Aloud, to form One True Voice.
Mr Ratcliffe also played for Cardiff City, as well as winning 59 caps for Wales over 12 years, and is a former manager of Chester and Shrewsbury.
He now works as a football pundit, including for BBC Wales Sport.