Tetra Pak to cut 150 jobs in Wrexham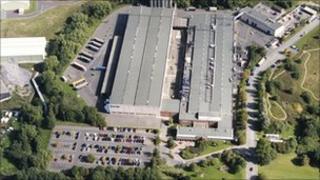 A company which makes cartons for the drinks industry has confirmed it is axing 150 jobs from its factory in Wrexham.
Tetra Pak said it had seen a fall in its exports which accounted for half of its business.
The Wrexham site will continue to house the company's commercial operations for the UK and Ireland, employing about 115 people.
Tetra Pak said it was committed to remain a "leading employer" in Wrexham.
The company said that "roll-fed production" - where flat cartons are produced and dispatched to companies - would finish at Wrexham at the end of April.
"The decision to consult on Wrexham's future was an extremely difficult one, but was necessary to ensure the continued competitiveness of our business," said Rik Jacobs, Tetra Pak managing director for UK and Ireland.
"Throughout the process, we have been committed to treating our affected employees with dignity and respect.
"We shall continue to do so and provide them with support in the coming months."
A Welsh Assembly Government spokesman said: "We are disappointed that Tetra Pak have decided to go ahead with this decision as they are a major employer in the area.
"We will look to provide all the support possible to help these employees find new work."
Mr Jacobs said "fair and equitable severance packages" had been agreed for employees which were "well above" statutory requirements.
Some funding is being provided for re-training, plus information workshops on tax and pensions.
"Our Wrexham site will continue to house our commercial operations for the UK & Ireland, employing around 115 people," added Mr Jacobs.
"Through the operation of a new finished goods warehouse, we will also create 21 new jobs.
"This will better serve the UK and Irish markets and ensure we are in the right shape for future growth."
Careers Wales, an information and advice services, is at the Wrexham site on Monday talking to employees.
The company, founded in Sweden more than 50 years ago, produces cartons and packs for milk and juices.
Tetra Pak set up in north Wales in 1979.