MP wants fans involved in Wrexham FC future after sale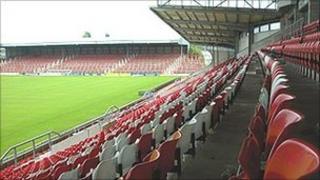 Wrexham MP Ian Lucas has renewed his calls for community involvement in the future of town's football stadium.
He was speaking after this week's announcement that Wrexham FC is set to be sold "as soon as possible".
A club statement said all parties involved in the sale were working towards a "smooth transition in change of ownership".
Mr Lucas made his comments after a meeting with members of Wrexham Supporters' Trust on Friday.
"It has become clear this week that despite the news there are a new group interested in Wrexham Football Club, the situation remains deeply uncertain," said Mr Lucas.
"After meeting with the present owners of Wrexham Football Club and the Racecourse ground last week, I said that I wanted to see a solution to the ownership of the Racecourse which involved the community.
"After today's meeting with the Supporters' Trust, my view has not changed.
"I will be working closely with the relevant authorities, including both industry and Parliamentary bodies, to ensure community involvement."
It had been thought that parent company Wrexham Village Ltd would sell the club but keep its Racecourse Ground home.
But the ground and facilities will also be sold to new owners Van Morton Investments Ltd "at a later date".
Robert Bickerton, who has been on the board at Shrewsbury and Macclesfield, takes over as chairman.
A club statement said: "Wrexham Village Ltd announces that it has agreed an option with Van Morton Investments Ltd to allow it to purchase Wrexham FC as soon as possible and at a later stage the stadium and training ground.
"Van Morton Investments is a recently formed company, the purpose of which is to attract and provide Wrexham FC with funding.
"All parties will work towards a smooth transition in change of ownership and ensure that nothing prevents the continued good work of the team, management and staff."
The club has been asked to comment on Mr Lucas's comments that fans should be involved in the future of the club.