Wrexham city status survey suggests local opposition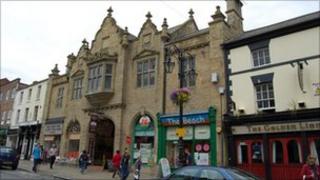 Wrexham may have tried three times to transform itself into a city, but it seems many in the town do not want it.
The council asked local people what they think before making a final decision on whether to bid again for city status.
Almost 1,500 residents who responded, and they rejected the idea by nearly two to one, while four of six community councils which took part also said no.
A report says there were concerns about costs, although it calls them "myths".
Wrexham's last attempt to become a city was in 2002. Wales currently has five cities, four in the south - Cardiff, Newport, St David's and Swansea - and one - Bangor - in the north.
The council has opted in principle to have another go when city status becomes available to one town to mark the Queen's diamond jubilee next year.
A total of 503 respondents supported an application, but 977 opposed it, said a report to be discussed by the council's executive board.
A session of the Senedd yr Ifanc - which allows young people to have a say on policies - also produced a vote of 11 for, and 13 against.
The results of a focus group will also be given to councillors, who will be asked whether they still want to submit a bid.
The report said many who responded were opposed because it would mean increases in council tax, salaries, and the submission process would be expensive.
But it added: "These issues were addressed in the debate and report at the executive board on 18 January and were shown to be 'myths'."
Keith Bryan, clerk and financial officer for Gwersyllt Community Council, said: "We resolved to support city status in a recent vote. They just thought it would be for the betterment of Wrexham."
However, Steve Wilson, clerk of Broughton and Isycoed community councils, said its members had no strong feelings either way.
"I don't think a lot of the of the information had been spelt out about what was involved cost-wise, or other implications," said Mr Wilson
The report said the bid would require a "modest budget" of up to £20,000.
Local authorities have until June to submit their entries. The results will be announced in 2012.