Wrexham FC: Stephanie Booth and Trust join forces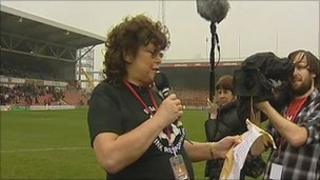 The future ownership of Wrexham FC has taken more twists, with one bidder withdrawing from the race, and another throwing his hat into the ring.
In the latest development, it has emerged businesswoman Stephanie Booth and Wrexham Supporters' Trust (WST) are now working on a joint bid.
Earlier, ex-footballer Ashley Ward withdrew his bid.
Meanwhile, businessman Stephen Cleeve has outlined his interest to fans on the Red Passion website.
On Tuesday afternoon it was confirmed hotel owner Stephanie Booth and Wrexham Supporters' Trust (WST) were working together.
After a meeting on Monday night, Ms Booth and the fans' group issued a joint statement, saying: "Both parties urge the current owners to honour their public commitment to sell to 'a consortium with supporter involvement and with the long term interests of the club at heart' and not to squander this unique opportunity by selling to any another party who does not fully subscribe to this concept."
The statement added: "Wrexham County Borough Council continue to indicate that they are happy to support a scenario which secures the long term future of the club and the Racecourse Ground as an international sporting venue in north Wales, led by parties with the best interests of the club and ground at its heart.
"It is estimated that the change of ownership could take no more than 6 weeks, subject to the timely provision of due diligence and management accounts by Wrexham Village to WST and the finalisation of a joint plan."
Five days ago Ms Booth said she was no longer in the running, adding: "Last Saturday they chose me and now they have apparently chosen Ashley Ward.
"Don't feel sorry for me, but for the people of Wrexham and the fans of Wrexham Football Club," she said.
"I think it's a disaster."
Meanwhile, BBC Wales have tried to contact Ashley Ward for comment.
Reports former Norwich and Barnsley striker Mr Ward had pulled out coincided with a question and answer session with Mr Cleeve on supporters' website Red Passion.
In it, Mr Cleeve responded to emailed questions.
He said: "I have always said that I will only make my bid if the majority of the fans are in favour of it.
"Red Passion is a site run by Wrexham fans for Wrexham fans and so it is a logical place to unveil my bid.
"It also seems to me that fans always come second in finding out what's going on so I am trying to change that."
He said his vision for the club was to keep the club and ground together, adding: "I have no interest at all in developing the stadium other than trying to work with the university [Glyndwr] to build in classrooms into the stadium to help with rental income, clearly the KOP needs to be redeveloped and I see the university as an important link into making this happen.
"I intend to divide the pitch up into small squares and sell them off to supporters for 100 pounds each.
"By doing this we can raise the money needed to buy the stadium from Geoff Moss and we will protect Wrexham FC's future as there can be no development on the pitch, the shares will not allow this.
"I would need to spend some time sorting out the legals but in essence it's one shareholder one vote irrespective of how many shares you own and the football club can only be moved out of the stadium if the majority agree."
Previously, local businesswoman Stephanie Booth had told fans she was the proposed bidder to lead a consortium to establish Wrexham as a community club.