Llysfasi College opens beekeeping centre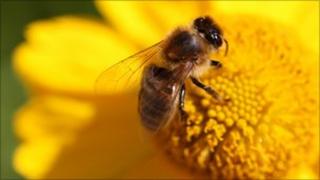 Budding beekeepers in north east Wales have a new way of learning their craft.
A collaboration between Llysfasi College and South Clwyd Beekeepers' Association has led to the creation of a new centre.
Based at the college, it includes a training apiary where new beekeepers can get hands-on experience.
Carol Keys-Shaw, secretary of the South Clwyd Beekeepers' Association said: "Beekeeping is a craft. It's more work than people imagine."
She added: "You can't just put the bees in a box and leave them."
She said membership of their organisation had risen strongly over the last two years:
"Membership has increased mainly as a result of genuine public concern about the decline of honey bees and bumble bees.
"A huge cross-section of people are now becoming beekeepers," she said.
"Our youngest member is 12 years old and our members come from a cross-spectrum of different professions - we've got builders, farmers, doctors and retired people.
"You get the impression people are very concerned about the environment," she said.
The new beekeeping centre, which has been mainly funded by rural development agency Cadwyn Clwyd, will give South Clwyd Beekeepers' Association space to train and teach other beekeepers.
The association also has a mentoring scheme where more experienced members can go out to assist new beekeepers.
They also run courses, with the next one beginning in April.