HeadStrong centres offer cancer patients hair loss help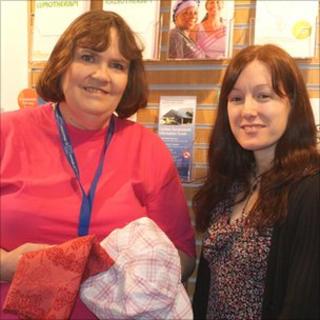 A new service is being launched to help patients in north Wales cope with the impact of hair loss while undergoing cancer treatment.
For many, losing their hair can be traumatic as it affects confidence and body image, say organisers.
They have set up specialist advice centres at Wrexham Maelor Hospital and Glan Clwyd, in Bodelwyddan, Denbighshire.
Specially trained volunteers, including former patients, will provide advice.
"For many women, the thought of losing their hair can be worse than the idea of having surgery," said Linda McCarthy, head of Breast Cancer Care Cymru.
"Hair loss can make people feel very vulnerable, so it's wonderful to be able to offer a service that can help boost confidence and make women feel better about how they look."
One of the volunteers is Iona Roberts, 57, from Holywell, who lost her hair when she was treated for breast cancer seven years ago.
Her biggest concern was her hair loss would frighten her young grandson.
"He came into our bedroom one morning and he said 'nain, your hair has gone'," explained Mrs Roberts who wore a wig until her hair recovered.
"I told him I had magic hair and took it off and put it on in the morning."
At the new HeadStrong services, people can find out how to look after their hair and scalp, learn scarf-tying techniques and try on a range of hats, scarves, fringes and hairpieces.
Mrs Roberts said she hopes the service will help cancer treatment patients to "realise that losing your hair doesn't last forever".
"There's so much a HeadStrong session can teach you that you wouldn't know," she said.
"For example when I lost my hair, my daughter bought me a lovely scarf but we didn't know that it was too silky so it wouldn't stay on.
"It's a chance for people to have a positive experience that's much more pleasant than most of the treatment they will be going through for cancer."