Iceland boss Malcolm Walker's charity Everest challenge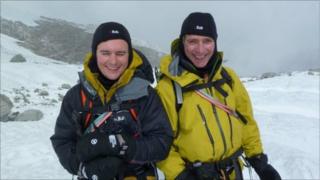 The founder of Flintshire-based food chain Iceland is preparing to join a British expedition to climb Everest.
Malcolm Walker, 65, and his son Richard, 30, hope to raise more than £1m for Alzheimer's Research UK.
The pair have set their sights on climbing Everest's 23,000ft-high (7010m) North Col, while the rest of the Iceland Everest Expedition hope to reach the summit at 8,848m (29,029 ft).
The pair will depart for the Himalayas at the end of this month.
The frozen food company has chosen Alzheimer's Research UK as its annual charity, and money raised will go towards research into early-onset Alzheimer's.
Malcolm Walker said: "It's probably the toughest challenge on earth. Many people die trying, and I realised that I just had to give it a go.
"Given my age and experience, and the fact that I'm not suicidal, I don't rate my chances of reaching the summit.
"If I did, I'd be the same age as Sir Ranulph Fiennes when he got there, on his third attempt.
"But I do hope that Richard and I will be able to get to the North Col at 23,000ft and support the team taking the Iceland Foods flag right to the top."
Mr Walker will be writing a blog during the expedition.
He added: "I also hope that we can make the most of this fantastic opportunity to raise some serious money for a truly outstanding cause - Alzheimer's Research UK.
"Dementia will soon affect a million people in the UK and almost every family is touched by it."
The expedition leaves the UK on 28 March and Mr Walker has been granted a two-month leave of absence by Iceland directors to take part.
Rebecca Wood, chief executive of Alzheimer's Research UK, said: "We're delighted that Alzheimer's Research UK has been named Iceland's Charity of the Year for 2011.
"This support, and Malcolm's extraordinary efforts to conquer Everest, will be a major boost to research into dementia, a condition that affects over 820,000 people in the UK today."