Marine Michael Taylor was unlawfully killed in Sangin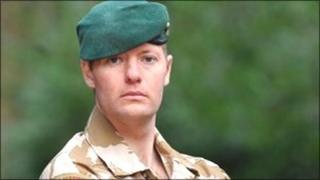 A 30-year-old Royal Marine was killed by a single shot while serving in Afghanistan, an inquest has found.
L/Cpl Michael Taylor, a father of three boys, died of a bullet wound to the neck shot from a rifle or light machine gun, the Llandudno hearing was told.
He was killed manning a patrol base in Sangin, Helmand province, last June.
The deputy coroner for north Wales, John Gittins, recorded a verdict of unlawful killing on L/Cpl Taylor, of Rhyl, Denbighshire.
Mr Gittins called him a "highly professional career soldier" who made the ultimate sacrifice for his country.
L/Cpl Taylor, a former British Army soldier, joined the Royal Marines in 2004 and was serving with 40 Commando at the time of his death.
Statements from colleagues who tried to save the unconscious marine after he was wounded were read to the inquest.
His mother, Jackie Taylor, was the only witness at the inquest, and she said she had heard on the radio that a marine had died, only later to receive the news it was her son.
She said he had volunteered to return to Afghanistan and had been "itching to get back out."