Price of £40m to clean Llwyneinion 'acid tar lagoon'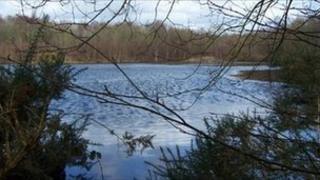 Experts say it will cost £40m and take four years to extract acid tar dumped in a lagoon in Wrexham.
They have concluded the first full test of the contents of the site at Llwyneinion, Rhos, said to contain chemical drums dumped since the 1960s.
It had previously been estimated that it could cost £100m to clean the site.
But the experts say the cost could be less than £40m if the contents could be processed in the UK rather than being shipped overseas.
The specialists are from Germany, where they have experience of clearing such sites and using the neutralised material for use as secondary fuel for power stations - something which is not done in the UK.
Wrexham council inherited the old Llwyneinion brickworks site from the former Clwyd County Council, which bought it from a brick company.
The lagoon - which is contained - is known to contain drums of sodium and sulphuric acid.
A report to Wrexham council's environment and regeneration scrutiny committee said meetings were being held with Environment Agency Wales (EAW) and the Welsh Assembly Government as well as the contractors, Baufield, to "discuss ideas for taking the remediation forward, including a review of the funding options".
The report author, Philip Walton, Wrexham's strategic and performance director, said: "From their previous experience Baufeld consider that the material found at Llwyneinion is similar to that of other acid tar projects, where the tar has originated from benzole refining."
He said a total of 73 samples were taken to Baufeld's laboratories in eastern Germany where they considered several options for dealing with the "remediation" of the site.
They said landfill was not the best option as tests indicated that once treated or conditioned, the tar would still need a "special exemption" to allow material to be deposited in a "hazardous waste landfill".
Mr Walton said Baufeld estimated that it would take approximately four years to clear the Llwyneinion site, based on the daily removal of 120-150 tonnes of material.
The report said that during the sampling, low level emissions of sulphur dioxide and hydrogen sulphide were detected.
The water layer on top of the lagoon and the drilling technology used kept emissions to a minimum and no complaints were received from residents about odour.
A further report will be presented to the council's senior management team in mid April to provide guidance on how the authority can make progress with this site, said Mr Walton.