Forces for Good offers helping hand to veterans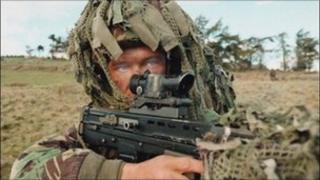 About 200 people have attended a Wrexham conference aimed at generating more support for ex-service personnel trying to adapt to civilian life.
Forces for Good is currently a limited company, or social enterprise, but is striving for UK charity status and hopes to base itself in north Wales.
Spokesman Chris O'Neill, said: "We get great support in Wales, so we decided it should be Wales based."
He said there were about 5m service veterans in the UK.
He added: "If you think about dependants as well, that figure probably rises to about 10m, so we're by no means a minority group."
The group's aim is to raise awareness and offer a helping hand to veterans.
Mr O'Neill said: "It's about veterans helping veterans. Veterans sometimes don't believe they have issues, until they hear stories from people like us.
"We're also looking towards the UK government and the Senedd to implement changes in the forces culture so that more emphasis is put on re-settlement when people leave.
"A lot of veterans just fail to make the transition to Civvy Street.
"They come from a life they understand, to a culture they don't."
Mr O'Neill, a former Royal Military Policeman based on Anglesey, said Wrexham's Glyndwr University had donated a conference room for Thursday's meeting.
He also said the university's vice chancellor, Professor Michael Scott, had agreed to be a patron of the new charity, along with Plaid Cymru MP Elfyn Llwyd.
He added: "This is the formation of Forces for Good UK, to lobby and campaign, and to work with veterans in the community.
"We're very much community-based and community-focused. We link up agencies and organisations, hoping to get them to work together, hopefully having become more aware of veterans' issues."