Night patrols help toads in search for love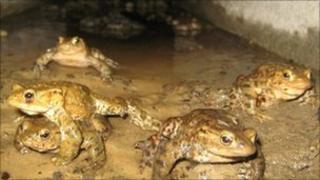 Volunteers armed with buckets have been spending their nights plucking toads to safety on roads across north Wales.
"Toad watch patrols" are helping keep the creatures safe as the breeding season forces them to go on the move.
One family in Bodfari, near Denbigh, has already carried 400 toads to safety in the last few weeks.
North Wales Wildlife Trust said many more have been rescued at Rhosesmor, Flintshire, as well as at Llandegla and Bwlchgwyn, near Wrexham.
Temporary "toad" signs provided by Denbighshire council have been put up on the A541 Mold to Denbigh road by the Shepherd family to warn motorists to take care.
Toads migrate to breeding pools during the breeding season which can start as early as February, if temperature and weather conditions are right.
South and West Wales Wildlife Trust reported being "knee deep" in toads and newts several weeks ago.
But the volunteers in north Wales said the creatures have only recently started to go on the move.
Alan and Emma Shepherd and daughter Erica helped 40 toads across the main road on Tuesday night.
Mrs Shepherd explained that new housing had changed the toads' path from the nearby river Wheeler and up to a pond on their farm.
"They can't move as easily now so we have been bringing them up," she said.
In Rhosesmor, TV camera assistant Jonathan Hulson and friends have been helping toads to navigate the road through the village en route to pools at a nearby quarry.
He is also monitoring toad numbers at Llandegla where, if they are found to be in enough numbers, an application can be made for warning signs to be erected by the local authority.
In January, signs were installed on two Carmarthenshire roads at Burry Port and Ammanford which bisect areas registered as important migration sites.
Sites can be registered with national wildlife charity Froglife as part of its Toads on the Roads mapping scheme to help publicise migration routes.
Froglife has mapped more than 700 crossings using satellite technology, via website Google Earth, including active routes in Wales staffed by volunteers in Wrexham, Ceredigion, Powys, Neath Port Talbot and Newport.