Rhyl track for Abergele cyclists killed in 2006 crash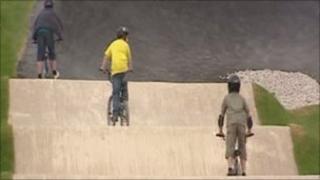 A £1.5m sports track has been opened in memory of four cyclists who died when a car crashed into them after skidding on an icy road in Conwy County.
Maurice Broadbent, 61, Dave Horrocks, 55, Wayne Wilkes, 42 and Thomas Harland, 14, died on the A547 near Abergele in January 2006.
British Cycling Squad performance director Dave Brailsford opened the Marsh Tracks in Rhyl.
He said it was a great boost to cycling in Wales.
It includes a 0.8mile (1.3km) race circuit, national standard BMX track and clubhouse with showers and changing-rooms.
Money raised from the Rhyl Cycling Club Memorial Fund was key to securing other grants.
The tracks, run by Glan Morfa Cycling Association, also include a brand new meeting room, spectator viewing areas and a campsite.
There are also plans to add a mountain biking skills loop soon.
Mr Brailsford said: "It's always great to see new cycling facilities.
"For me anything that develops cycling in Wales and particularly north Wales is a great thing and these facilities are fantastic.
"You could not thank the people that have been involved in this project enough for what they have done for cycling in north Wales."
The four cyclists, all members of Rhyl Cycle Club, were on a practice ride at the time of the tragedy.
At an inquest in 2007, a coroner ruled a motorist's bad driving and lack of communication over road gritting contributed to their deaths.
The new track's operations manager Justin Lewis said its aim was to give young people, particularly those from deprived areas, a chance to take part in sport at a low cost.
He said it would be available to schools, tourists and the wider community.