Wrexham Football Club faces £200,000 tax deadline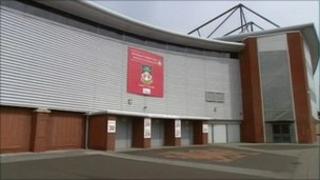 Wrexham Football Club has to pay a £200,000 tax bill on Thursday if it wants to be included in the end-of-season promotion play-offs.
BBC Wales understands a number of fans are loaning the money to the club and are confident the bill will be paid.
It is understood Blue Square Bet Premier officials want to see the debt cleared before Wrexham compete in next week's promotion play-offs.
An announcement is expected at the club later on Thursday.
The club's current owners have said they have no more money to invest.
Wrexham are due to host Luton Town in the first leg of their Blue Square Bet Premier play-off semi-final on 5 May.
The final will be played at the City of Manchester Stadium on 21 May with a place in the Football League at stake.
Wrexham Supporters' Trust (WST) earlier this week launched a £1m bid to buy the club in partnership with private investors and individual fans.
But fears for the future of the Conference outfit have been fuelled by a winding-up petition over a £200,000 tax bill.
The trust called on fans to back plans to put the club into community ownership in a leaflet at Monday's game against Tamworth at Wrexham's Racecourse ground.
Terry Heath of the trust said: "We're making good progress and money is starting to come in quite well. It's not just the fans from the club itself, we're also inviting other people (to donate)."
Mr Heath said there was no reason why the club could not survive if it was run properly, but it needs gates of 4,000 per game to break even.
"That should not be beyond the pale, that should be quite achievable."
He said the trust had been trying to encourage fans back to the Racecourse, but he recognised times were hard.
The trust wants to acquire a majority share holding in Wrexham FC (2006) Limited, the legal entity which owns Wrexham Football Club, the Racecourse and Collier's Park.
It is encouraging private investors to invest in a joint bid to attract additional skills and experience, and plans to issue shares to supporters once the acquisition is complete.
The trust plans to present its business case to Wrexham FC owners Geoff Moss and Ian Roberts within the next week as the club faces a winding-up petition from Her Majesty's Revenue and Customs (HMRC) on 11 May.
WST chairman Richard Owen has said he hopes the High Court will postpone the hearing to allow the trust to finalise its plans, as it had done in the case of other clubs facing a similar fate.
Businesswoman Stephanie Booth and the trust have both been examining Wrexham FC's accounts with a view to taking it over but the club said no potential investors had yet been willing or able to commit to a deal.