Deeside Toyota workers return after non-production days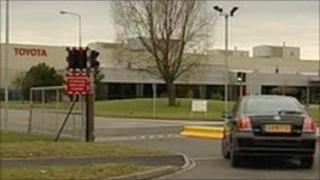 Staff at a Toyota engine plant in Flintshire are returning after an extended plant shutdown between Easter and the May Day Bank Holiday weekend.
The car maker held a series of training courses on "non-production" days as a result of a shortage of parts caused by Japan's recent earthquake and tsunami.
Production is still expected to be cut back because of the parts shortage.
Toyota will hold more non-production days in May, with the Deeside plant's 445 staff being given Fridays off.
Under the arrangement, drawn up between the company and union officials, workers will be expected to "make up the time once the supply problems have been resolved".
The company has said the remaining non production time will be "utilised for continuous improvement and training activities".
It is hoped a normal working pattern will resume by the end of May.